Lean tube workstation/workbench consists of the following basic components: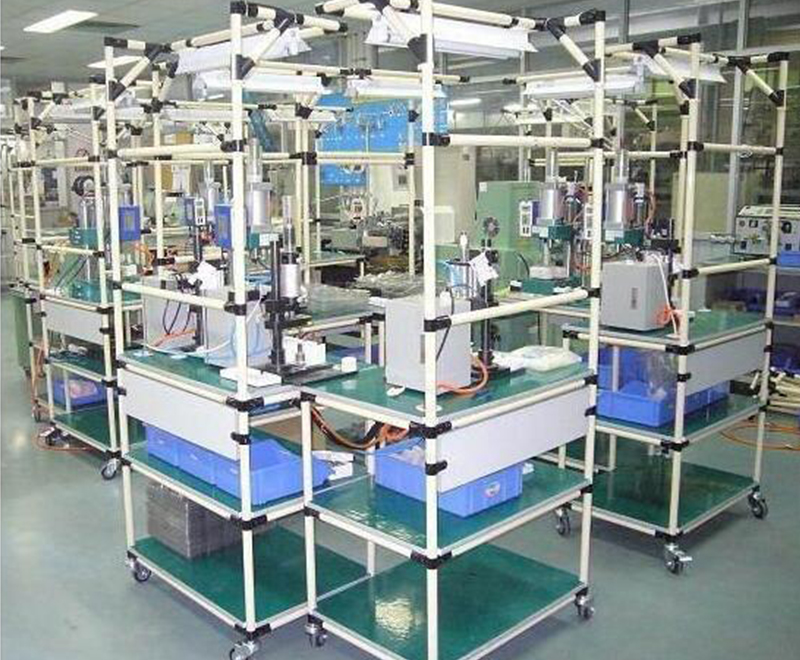 1, The overall framework: the main body of lean tube workbench as a person's bones.It is the most basic and the most indispensable part. It is composed of a standard flexible bar with a diameter of 28 mm and a bar connector (the flexible bar has beige, white, black and other colors, the bar metal connector has a silver-white chrome-plated connector and a black electrophoresis Joint).The framework is a modular table, each part can be reused, easy to continue to transform.
2, Feet: Adjustable foot cup (adjustable foot cup, shock-resistant foot cup, conductive foot cup, anti-static foot cup) or casters (flat castors, expansive castors).
3, Table surface panel: composite board, fire board, ESD anti-static board, multi-plywood, stainless steel plate, hollow plate ...
4, Lighting system: Including lighting tubes, independent switches, power strip, wires and so on.
5, Logistics system: refers to the composition of a variety of transport devices, such as conveyor belts, slide rails, turntables and manipulators, etc., to complete the workpiece, cutting tools, such as the supply and delivery system, which is a major part of the wire bar table.
6, Other parts: including drawers, power granted chute, process instructions, warning lights and so on.
Related products:
Roller Track for lean tube workstation
Caster Wheels for lean tube workstation