Lean tubes joints Description: Lean Tubes joints can be combined into various flexible workbenches, storage shelves, turnover vehicles, etc. with bar (lean pipe / steel-plastic composite pipe), which has the advantages of convenient disassembly, flexible assembly and higher production efficiency. Is designed for the factory assembly, production, maintenance, operation and other work designed. Commonly used lean tubes joints include Lean Tubes T-type Aluminium Joint, Lean Tubes Cross Metal Joints.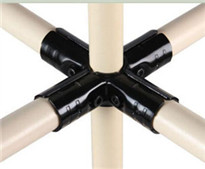 Characteristics of lean tubes joints: modular arbitrary assembly, flexible structure, beautiful appearance, non-polluting, can change the working environment, in line with the requirements. Magic changes, so that it has a very strong material handling capacity. The valuable resources, but also shows the value of its re-use. In line with ergonomics, just one M6 Allen wrench, you can end the installation process. To meet the various precision parts and sensitive parts of the transport and storage.
Welcome contact us for the quote of High-quality Lean Tubes Metal Joints.