Lean tube, also known as composite pipe, or flexible pipe, is a welded steel pipe with a plastic resin coating after surface treatment of a high-quality steel pipe.
The outer surface is made of a plastic layer of PE / ABS / ESD and the inner surface is coated with a coating to make. Composition of products, with beautiful appearance, wear-resistant, bright color, rust-proof and pollution-free features, stainless steel products is the ideal alternative. Standard rod material diameter of 27.8 ± 0.2mm, the wall of the plastic layer with PE / ABS / ESD plastic, steel wall thickness of 0.7mm, 0.8mm, 1.0mm, 1.2mm, 2.0mm standard, the other can also be customized 0.9 And 1.5mm thick lean tube. Appearance color common colors are beige, white, black, ivory, the other can also make different effects according to different requirements.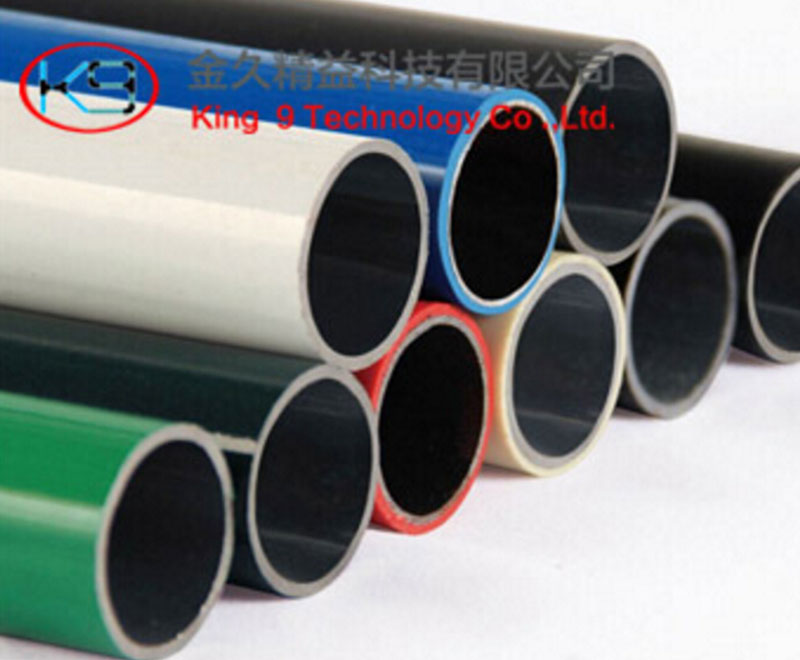 Performance
1, The use of the environment: bar products in the absence of specific instructions can only be used indoors.
2, The temperature range: normal operating temperature of -10 ℃ to 50 ℃ (15 to 120 degrees Fahrenheit); Note that the plastic pipe at a temperature of 88 ℃ (190 degrees Fahrenheit), ASA plastic resin layer will start Deformation.
Bar (also known as plastic pipe), is a welded steel pipe with plastic resin coating, in order to prevent the coating and steel pipe separation, between them using a special adhesive bonding. The inner wall of the steel pipe is a standard anti-corrosion coating. The standard rod material has a diameter of 27.8 ± 0.2 mm and a steel pipe wall thickness of 0.7 mm, 0.8 mm, 1.0 mm, 1.2 mm and 2.0 mm.
Related products links: Metal Joint-Single, Plastic Joint.