Tubular framing system (TFS) is a flexible modular system composed of profile tubes and corresponding accessories to build a diverse range of possible flow racks, material shuttles, workstations and any other frame systems. Simple handling is the key features of tubular framing system and delivers maximum cost efficiency.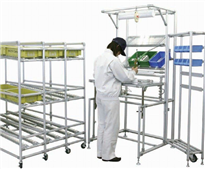 Features:
1. Simple
The tubular framing system applies the simplest concept of industrial production. There is no need to worry about the completely precise data or the structural rules except for the loads.
2. Flexible
The tubular framing system can be put together easily as your need dedicate and can be improved and expanded at any time.
3. Flexibility
The freedom and flexibility of a tubing system coupled with the standard accessories result in an easy upgrade to adapt continuous improvement of production technology.
4. Reusable
The components of TFS are reusable-when the life cycle of a product or a process finishes, the original components cam be converted to a new structure.
We are Tubular Framing System supplier. Welcome contact us at any time.
Tags: China Lean Tube Supplier, PE Coated Lean Tube, Lean Tube Framing System Supplier, Tubular Framing System